Nothing but Outstanding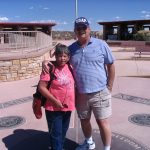 Along the way, I have somehow managed to mess up my computer by experimenting. And I feel safe in doing this as there is a person that I know by the name of Jerome Benton to fix whatever I mess up. I messed something up in my laptop, and I made arrangements with Jerome and he does his magic, and I am on my way again, only better because Jerome has added maintenance icons and made it much easier and simpler for me to do. Then, the wife and I went out and bought an HP all in one computer, and guess what, it has windows 10. Oh, no, no, no. Called up Jerome and asked him some questions, made arrangements to drop it off to him. Jerome is so eager to please, he had the computer back in a short period of time and gave me windows 7 ultimate, with maintenance icons that you can set up for once a week automatically. I have to say that I am not afraid to step out of my safety zone and try to learn more of things I can do with the computer. Because I know that if I mess something up, I can always go to Jerome Benton, and he will get me back up running in a short period of time. Thank you Jerome, you have save my bacon more that once. You are a Wizard on computers !!
JOHN N. WRIGHT
RETIRED
Pleased with the website
I am pleased with the site and Jerome was great to work with.
Joe Rapp
HBW Rapp Division
JERPAT Web Designs is a pleasure to work with
JERPAT Web Designs is a pleasure to work with. They handled my project in a professional, yet personal manner. The quality of work is excellent, and they are definitely worthy of repeat business! Great, great, great!
Michele Towers
Service was GREAT!
Service was GREAT! I will recommend to other realtors in my office. Again THANKS!
Virginia Bolen
Cherry Creek Pros Realtor
I appreciate your patience and dedication
JERPAT Web Designs I appreciate your patience and dedication to our project.
David Garrison
I trust the team at JERPAT
I trust the team at JERPAT to come through on any projects in which we have need.
Dr Scott Rosenthal
JERPAT Web Designs is AWESOME!
JERPAT Web Designs is AWESOME! I appreciated the companies honesty and commitment to take on my project under a short time frame and delivering as promised. JERPAT Web Designs was very professional in their recommendations and I was impressed with the proactive approach allowing me to stay ahead of my client's inquiries. I'll gladly continue to bring my web design projects to JERPAT Web Designs and look forward to future opportunities to work together.
Julie Eudy
JERPAT Web Designs was a pleasure to work with
JERPAT Web Designs was a pleasure to work with. My project was done quickly and when it was promised. I look forward to working with them in the future.
Christine Summerford
WOW….I am sooooooo HAPPY….computer working beautifully
Computer Repair on 5/2/08
WOW….I am sooooooo HAPPY….everything is up and running and working beautiful! Thank you for doing my email setup also…would have taken me the rest of the afternoon if not longer.
Jerome…I am sooooo appreciative of you helping me out. Someday…I will return the favor of what you have done for me! THANK YOU THANK YOU THANK YOU!!
Beverly Stoll
JERPAT Web Designs is amazing
JERPAT Web Designs is amazing….I cannot believe how "efficient" and "quick" they are!  What wonderful service!!!!! You company is a MODEL for others to follow!!!!!!
The website is BEAUTIFUL! It is PERFECT!!! It is more then I ever expected!
Thank you again for ALL that you have done to help us make our company become a reality by having our own website to run our business!
What a wonderful feeling! A dream come true for both of us!
I am soooo "motivated" now to go out and start getting customers…sending them to our website and "officially" open the door to our business! Wow!! What a wonderful HIGH!
Thank you! and God Bless You!
Was impressed with his design of my logo
Jerome was very enthusiastic, professional, and ready to please. He was patient in designing my logo and I was impressed with his creativity; a nice man to work with.
Rhunell Anderson
The Light Tutoring Service
Jerome Benton fit the bill!
JERPAT Web Designs was referred to me and I must admit I was skeptical at first. I struggled with finding a web designer who truly listened to my needs and was understanding with someone who does not do web design for a living. Jerome Benton fit the bill! He is a dynamic web designer and very knowledgeable about the industry. His service is superb! He is great at explaining things for the layperson, making sure your needs are met, and taking care of all the details (including the little things you don't know that need to be done). He has done an outstanding job helping me grow my business via the internet. His gift of search engine submission and optimization has brought a great deal of hits to my sites which have turned into clients. Jerome – you're stuck with me!
Evelyn Windley Kaufman
Great experience working with you
What a great experience working with you. We would recommend you to anyone.  What we had been struggling with for 9 months, you accomplished in 2.
Baca St. Ange
Created the JVA Invoicing Database
I got my JVA Invoicing Database in May 2007. JERPAT Web Designs made sure it arrived with my customizations in place and operating correctly. Since then, I have used it for all of my invoicing needs. It is so easy to use and I love being able to complete my invoice and e-mail it right from the system – and the same is true for the receipts. What a great job of design, build and implementation by JERPAT Web Designs.
Diana Beidel
Pleasure working with JERPAT Web Designs
Working with JERPAT Web Designs was a pleasure. His design ability and willingness to work with me in creating the perfect logo was well worth every penny.  After more than 20 years in business, I finally have a logo that truly represents my commercial writing business, and I couldn't be happier.
Thanks a million! Jacqueline Simmons, Advantage One – The Write Business.
Jacqueline Simmons
Thanks for all your hard work developing LeadershipSmarts.com
Thanks for all your hard work developing LeadershipSmarts.com. You
have been a wonderful asset to our team. What I've appreciated most is being able to depend on you to convert our vision into a functional website in short order. You have been very responsive and quick to turn around our requests. Some of the technical challenges we needed you to resolve were pretty tough, but you solved them all. We are really happy with our site because we now have what we really needed, a solid digital product purchasing and delivery system that will also help us build our customer base. Thanks for all your work with our graphic designer, hosting company, shopping cart vendor, merchant account provider etc. It can't have been easy to get all those pieces working together seamlessly.
Lastly, the best part of working with you has been your positive upbeat attitude. This project was really fun. If it hadn't been for you I'd be bald pulling out my hair by now. I'm so proud of our
website. I'm really glad we hired you and look forward to more work together as we grow our business.
Patricia Beach / Jennifer Joyce
Pleased with your work and your professionalism
I am truly pleased with your work and your professionalism. I will definitely recommend you to others. I'm pretty sure they will not be as bad as me….:) but I figured if you can handle me….. then you can pretty much handle any body….:)
Thanks again for all you do!!!
Cassandra Caldwell
Updated website and hosted the website
Coover & Barr, LLC, a Columbia, Maryland, law firm, had recently determined that our website was outdated and needed a major facelift. Luckily, through a referral, we were put in touch with Jerome Benton at JERPAT Web Design. He is terrific. Everything we wanted and more was accomplished in timely manner, with no complications and no tension, on my part or, hopefully, his. The price was reasonable and the work exemplary. I would highly recommend JERPAT to anyone who needs a new or redone website. In fact, we use Patty Benton to send out our periodic newsletters and she, also, does a great job. Check out our website for yourselves. They are great.
Shelly Abrams
Jerome is a pleasure to work with
Jerome is a pleasure to work with. He is someone that you immediately trust which is critical for someone that you give access to your most important files. He is a high work ethic and really works to partner with you to solve things. I recommend him without reservation.
Julie Jackle
Digitizing over 9,000 Slides
Occasionally you will find a workman with great skill, great desire and ability who for a reasonable rate will do a job for you that exceeds your fondest expectations. Jerome Benton of JERPAT Web Designs is one of those rare finds. He was able to digitize over 9000 slides that I had collected from my many trips around the world and to do it within three weeks at a price more reasonable than any similar businesses I had contacted.
Mr. Benton replaced the slides in their carousels and slide books during this onerous task and picked up and returned them to me within the aforementioned three weeks. Additional skills that I had not anticipated were IT skills with the computer that I initially was unaware of. He includes off site computer repair of viruses as an additional skill that is rare.
I am unable to describe both my admiration and praise of the skills that have changed my life with the slides beyond anything I could have imagined.
I therefore recommend Mr. Benton's work unequivocally and I hope that whoever reads this is able to use his skills as I would, without hesitation.
Paul Krichevsky, M.D.